SAAB TRX Wheels

---
For those SAAB owners that have TRX wheels, I'm trying to put together what info I can on these strange creatures. TRX wheels were used by a LOT of auto makers in the late 70s, early 80s. Ford used them on the early 'Mustang III' cars (with a neat three-spoke wheel-think SVO), used them on a lot of Escorts in a smaller wheel size (something tells me 365???). Heck, even Goodyear made the 'Eagle GT' in one or two TRX sizes. The TRX concept wasn't just weird tire & wheel sizes. They developed a different bead and rim flange (as in 'TR' vs 'J'), and were early examples of 'low profile' tires. Interesting, and may have caught on, if it weren't for advances in radial technology that allowed others to make low profile tires without the other 'TRX' system enhancements. And it seems certain that Michelin wanted a significant royalty from the wheel, tire & auto makers, which helped spell the death of this "standard." What it means now is that tires for TRX wheels are very expensive compared to a comparable tire for a J-type rim. I loved one comment I read: "Michelin TRX is the "Betamax" of the tire industry."
The SAAB TRX rim had an integrated dust shield and came with a black center cap.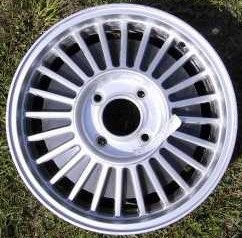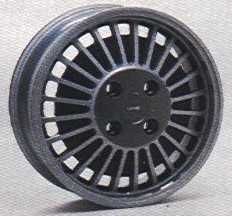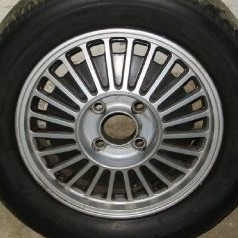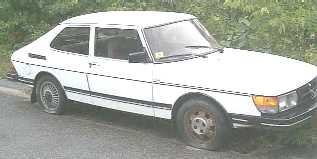 An example of a TRX and a J rim on the same car [Old Pepe]
And here's a Stahlberg model of basically the same car: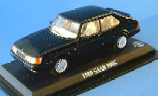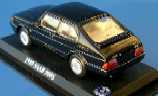 A mislabeled 900T model with TRX wheels
SAAB first used the TRX tires and rims on the 1980 900 five door. In 1981, the TRX was used on all 900 S and Turbo models. In 1982, SAAB went back to a "J" style rim and dropped the TRX wheels in the US. So they were really only used for one model for one year, and then for all models for one year, so there aren't that many around. This wheel also continued for an indeterminate time in the UK at least on the 900 turbo, probably until the factory ran out. The TRX wheel was the first SAAB wheel to use conical seat lugnuts.
Part Number: Saab 8947442 or 105120505
The wheels are: 135TR x 390FH x 45 ŇSV-7
The tires are: 180/65 HR 390
Optional sizes (Recommended): 200/60 HR 390, 210/55 VR 390, 220/45 VR 390
Optional sizes (Other): 190/65 HR 390, 220/55 VR 390, 230/45 VR 390, 240/55 VR 390
| | | |
| --- | --- | --- |
| Spec from SAAB | US | Metric |
| Sidewall | 4.6063" | 117 mm |
| Radius | 12.2835" | 312 mm |
| Diameter | 24.5669" | 624 mm |
| Circumference | 77.1791" | 1960.35 mm |
| Rev per mile/km | mi 820.95 | km 510.113 |
There's a GREAT history, and and even more wonderful TRX chart at:
Dr. Theo's CitroŽn CX-tire specifications
*Possible* Replacement TRX tires

Avon CR28, H, V and Z specifications.

Colway CTR, H and V specifications.
Some *possible* TRX rim vendors:
Lemmerz (Belgium), SMR (France), Speedline (Italy)

Thanks to Larry West and Martin Bergstrand for info, and David Prantl for the picture!


Do you know of a site, image or info that should [or shouldn't] be here?
Or the provenance of something that's not properly credited?
If any image is yours and you don't want it up here, just let me know! Email me!
Entire site noodled with and © Vinter 2005/06! If you have comments or suggestions,
email me at webmaster@peacetek.net Cooked with Macromedia Dreamweaver


Best viewed with a Computer Monitor
Jump to: Scrapbook, SETI, Conventions, Wheels, Clubs, Dealers, Etc., odd stuff
Return to Top