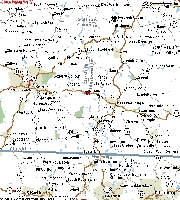 Dublin NH is dominated by Mt. Monadnock, the second most climbed mountain in the world [next to Mt. Fuji], and, although it's not terribly big by some standards, it's a lovely mountain, just low enough to walk up and just high enough for alpine vegetation and a nice snowy peak.
Keene is the largest city/town, Boston is about 2 hours away, Montreal and NYC are both within driving distance for mini-vacations, all in all, a little slice of heaven!
Dublin itself is a wonderful town with a rich heritage. The big blank spot to the left of our house is the mountain and there are numerous lakes and ponds nearby.
More later...