Project SONETT
Once more into the breach dear friends, once more into the breach...
Explore Jeff's Home for Orphaned Sonetts!
Keep Scrolling down!
June 2006: Here's my yearly update. Some background: The frame is a 72, but most of the body 'glass is from various 73 and 74 'donors'. So, how to attach the nose? Well, some substantial aluminium brackets, and I think that nose is on there better than the factory 'spaghetti straps'. Tying the brackets together makes for a pseudo-bumper and a place to hang the plate. I have the buckets and lights for the "rally lights", but I think I'm leaning toward making some rube-goldbergian brackets and mounting some Hella 500's in there instead [yes they fit quite nicely]. I was able to save a grill from one donor, and the grill badge from another. I plan on painting the "bumper" and filling in the old "big bumper" slots in the fiberglass.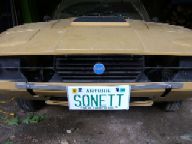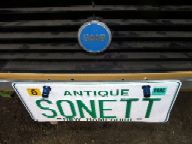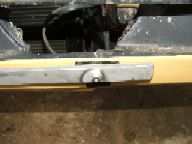 June 2005: Well, it's been a long time since I've made an update, perhaps someday I'll go back and go into more detail. But for now, all I can say is... IT'S ALIVE!! It's not quite ready for inspection yet, but I've got plates, and it went for a brief trip on the road today. I think this is the first time the car has been on the road since 1985.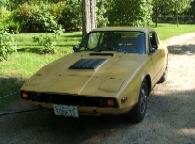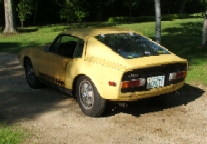 June 2005 cont.: Major things left to do:
* Find a hood pin [the one for the latch]
* Headlights - mechanism is all disconected and it hits the right fender liner - I think I have to re-align the hood [again!]
* Exhaust - I have an entire MSS Header, "bomb" and tailpipe, just need to install them
* Wipers - they were working!
* Reverse lights - they were working too...
Then it's inspection time. After that is all the "nice" stuff like paint, headliner, interior, music.... See you all in STRATTON!
December 2001: Made striker plates, but them on [what a PITA]. Drivers door works great... passenger door needs some hinge adjustments which can wait. Tinkered with brakes, gave up [again]. Focus is now on retrieving Orphaned Sonetts which will yield some of the parts I need.
September 2001: Body is ON! Doors are ON [waiting for one striker plate!] Assembled Brakes and there is a LEAK... grrr... obviously, the Sonett didn't make it to the NESA meet or the Swedish Car day in Boston ***sigh***
July 2001: Not driving yet, but it's running! Alan's memory of V4-related stuff is phenomenal - as a matter of fact he has a BEAUTIFUL 1969? 96 in the yard for service - the little old lady does not want to sell - I'm donating some extra parts to the cause. Oh, and thanks to Chip Lamb, that 96 will actually GET serviced [yay, Turbo! connections!] Got the Weber Carb all set up [massive tweeking of throttle linkage and had to change a valve cover bolt that was hitting the manifold adapter] New points/condensor [yes, I know, need to buy an electronic ignition]. The amazing thing is that Alan had OLD Bosch distributor parts buried in the back of one of his cabinets! Everyone's like "hey, what's that? Thems POINTS, remember those???" timing, dwell, etc. all set and schmooth! H2O Hoses are all in and seem to be happy and leak-less Electric fan is wired, works, but doesn't kick on soon enough. I've got the low temp thermo-doodad in there, but it's not getting hot enough soon enough. I have to scratch the old head about that some more. Wiper motor is in, and the little mounts turned! Nothing went BOOM when we connected the battery [always good] Engine runs nice and smooth and the sounds great! Next: final brake assembly drive it around the parking lot [body/noseless] to get the engine/tranny/brake bugs worked out Attach body Side and rear glass Attach Doors [all ready to go] - SEATBELTS! Attach Nose Get lights to work ;-) Then it's registration! Paint and final interior work can WAIT... Wish me luck for the August NESA meet!

Return to Top

| | |
| --- | --- |
| May 2001: Fan time! Here's the long awaited pix of the electric fan conversion. Also, a shot of the lovely SS Brake lines courtesy of Chip Lamb. But, on to the fan. I placed the fan toward the left of the engine bay where there seemed to be more room for air flow - the alternator, etc. are on the right. In order to get a thermoswitch in there, I snagged an AC Cutoff switch "elbow" from a 900. Put a regular 900 thermoswitch into the elbow and, voila! Found a belt to run the Alternator & Water Pump. I'll be running a manual "always on" switch up to the cockpit as well. | |


Return to Top

| | |
| --- | --- |
| Fall 2000: Engine had to come out to replace the oil pan [long story]. While it was out, found lots of little things to do. Transmission case access cover got a hole in it from hitting the steering rack. Put in a new Clutch MC from Jack Ashcraft While the engine was out, I rebuilt brake calipers and lots of other little things. As you can see, the entire frame has been redone and all engine and suspension parts sandblasted & painted. | As part of the reconstruction, we took the fan off and will be putting in an electric fan. Carburetor is a dual-barrel Webber. Even with the "shorty" engine mounts, I will probably need to do something to the hood to clear the air-cleaner. I'm thinking of cutting the "bump," raising up the forward edge and opening it up [can you say Scoop!]. Next thing is to strip the green nose before putting it on. I'm thinking about doing a tilt-nose conversion as well |
Thumbnails... click for full size...
·
·
Return to Top
Spring 2000: The rolling chassis is all ready to go. Interior is black with yellow saddle seat bolsters. Every piece on the car has been taken off blasted, cleaned up, repainted and put back on. The springs and suspension, calipers and motor... EVERYTHING is painted black, yellow or Ford Blue. The Previous Owner had it for about 6 years and the guy he bought it from had it for 10.
The car needs:
Doors put on and some fiberglass work on the leading edge. Fiberglass to be painted and then reattached. Front and rear bumpers as both sets of fiber are from 73,74 and had the bigger bumpers. Interior put in and finished. Some electrical work.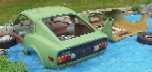 ·

·
·

·


·

·

·

·


·

·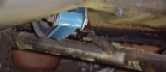 The old dead-RED 1972 Sonett III!
Do you know of a site, image or info that should [or shouldn't] be here?
Or the provenance of something that's not properly credited?
If any image is yours and you don't want it up here, just let me know! Email me!
Entire site noodled with and © Vinter 2005/06! If you have comments or suggestions,
email me at webmaster@peacetek.net Cooked with Macromedia Dreamweaver


Best viewed with a Computer Monitor
Jump to: Scrapbook, SETI, Conventions, Wheels, Clubs, Dealers, Etc., odd stuff
Return to Top